Nowadays, fishing has gained rapidly in popularity and became one of the most active and adventurous outdoor activities. Fishing is not just another boring hobby. Unforgettable feelings, suspense, and action will boost your adrenaline.
All of us fishermen can't forget that rush when we finally hold the fish in our hands.
However, if you want to take a big bucket full of fish home, you should follow some basic rules. High-quality fishing gear, good fishing skills, and techniques paired with excellent organization should be seriously taken into consideration.
Today, we are going to talk about organization and more specifically, about the key to perfect organization, fishing tackle boxes! We will analyze how to choose the best tackle boxes and show you the 10 best fishing tackle boxes ever made. After searching the net thoroughly, we managed to pick the best products on the market which will fit your fishing needs.
Do You Really Need A Fishing Tackle Box?
Firstly, it is important to mention what every angler should have in his tackle box. Some of the must-have items are reels, trebles, hooks, swivels, lines, lures, fishing pliers, sinkers and line cutters.  Most fishermen may think that they don't have to carry all these things until they are desperately in need of them.
There is nothing worse than forgetting these essentials. Undoubtedly, a fishing storage space to keep those things safe and sound is absolutely necessary. A fishing tackle box will protect your items from rain, saltwater, dust and help you with the transportation.
The tackle box is a necessary piece of equipment in your fishing arsenal.
What You Should Look for in Fishing Tackle Boxes
There is no doubt that the choices are ample when it comes to choosing a tackle storage box. However, there are three features that you should definitely keep in mind. All fishing gear manufacturers tend to glorify their products.
After testing numerous products we noticed that the best fishing tackle boxes have the following features.
It goes without saying that size is the first aspect we should take into consideration. Specifically, we should take a look at our fishing gear and determine if we want a small or large tackle box. For instance, choosing a bulky tackle box may not be the best option especially if we only have to carry small things.
Moreover, it is a good idea to select a tackle box with a  large main storage area with small compartments or lure box areas. For example, spinning fishing fans use only lures so they will need some special lure compartments.
Saltwater and rain are the main enemies that could ruin your stuff completely. Before you hit the water, you should make sure that you have a waterproof tackle box. It is really not a good idea to expose your fishing tackle to the elements of nature.
Undoubtedly, the best tackle boxes on the market are quite lightweight and versatile. When you think about the word "fishing box", probably the first image that crosses your mind is a traditional metal tackle box.
Gone are the days when people used these boxes. Today, the modern fishing tackle box is made of high-quality plastic. There is nothing worse than carrying a bulky and heavy box.
Additionally, a lightweight tackle storage box is really convenient if you want to move from one fishing spot to another.
Best Fishing Tackle Boxes 2018
Flambeau Tackle T4 Multi-Loader Tackle Box
Built to "fight" against every harsh weather condition and characterized as the best bass fishing tackle box by many tournament bass anglers. True to its name, the multi loader tackle box has ample storage areas.
Outstanding Features
This lightweight box has a large main storage area for stuff like reels or lines and a bottom area for your plastic lure tackle boxes. The top lid offers a quick access area for small things like sinkers or hooks. It is a good tackle box for both freshwater and saltwater anglers. The storage area is larger than expected and it is absolutely waterproof.
Overall, this tackle box tops our best fishing tackle boxes list.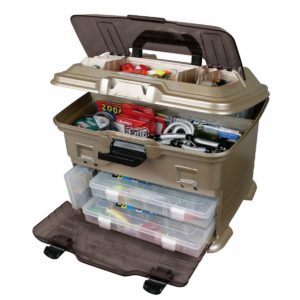 See Pricing and Reviews on Amazon
PLANO HIP ROOF 6 TRAY TACKLE BOX
Simple, small and versatile. Sometimes a simple design is all you need. The PLANO hip Roof is made of high-quality materials and comes in two colors: green and beige.
Outstanding Features
In this tackle box, you can put everything you need without any worries. If you open the box, you can see that it has 6 extra trays and under the trays there is enough space for bulkier items like fishing lines or reels.
The handle on the top is quite durable and there are also side secure clips.
To sum up, it is the best fishing tackle box for every spinning angler thanks to the multiple small compartments for lures.
See Pricing and Reviews on Amazon
Plano Pro-Latch Stowaway Tackle Box
If you are not fishing constantly or just want to organize your lures, this tackle box will be your next fishing buddy. Whether you are out for spinning or baitcasting, you will need your lures.
Outstanding Features
The tackle box contains 24 compartments which are adjustable. The clear transparent box will make the carrying process much easier. Additionally, the two clips close the box really tight making it waterproof.
Just load, close and go! A quick solution at an affordable price.
See Pricing and Reviews on Amazon
Plano 1354 4-By Rack System 3500 Size Tackle Box
An all-in-one fishing tackle box with lots of space. A nice sporty cut armed with the best materials on the market. It goes without saying that it is a dream tackle box for every fisherman.
Outstanding Features
First of all, this item definitely deserves a place in the list with the best fishing tackle boxes because it has four plastic boxes with multiple segments for small items. You can put your lures, swivels, sinkers or hooks in there. The front cover is transparent so you can see what you have in the plastic boxes.
As far as the space under the lid is concerned, it is a medium size storage area.
Summarizing, if you take into consideration that the item is well-sized, it can be considered as a lightweight box weighing only 2.8 pounds.
See Pricing and Reviews on Amazon
VonHaus Very Small Utility Tool Storage Box
This handy box is proven to be the best tackle box for beginners and avid experienced anglers. It is definitely a noteworthy fishing tackle storage area box thanks to the plastic trays that sit inside.
Outstanding Features
It is another great fishing tackle box. The VonHaus box is a great tackle box series that will fulfill even the most demanding needs. It has 4 drawers (adjustable) and a big upper storage case.
Finally, easy portability and ample space became possible with the VonHaus BOX. A cheap tackle box but really durable and handy.
See Pricing and Reviews on Amazon
PLANO Tackle Systems Hybrid Hip 3 Tray Box
The PLANO hYBRID 3 is surely one of the best fishing tackle boxes. The small size compared with multiple compartments and a big main storage area makes it ideal for every angler.
Outstanding Features
Firstly, it is important to underline the fact that PLANO constructs fishing tackle bags and boxes with all fishermen in mind. This fishing tackle box contains three trays fro small items and lures and the design is really unique. The only drawback is that it is a little heavy.
It is a great option for stashing lots of things and it is also waterproof. Highly recommended for saltwater anglers.
See Pricing and Reviews on Amazon
Creative Options Box with Auto Open Trays
The Creative Options fishing is a nice racked tackle box with two trays. Technically a box used for storing art supplies, it comes in really handy as a tackle box. The base has ample space for large items.
Outstanding Features
The easy to grip handle is definitely a big plus but the auto open trays is the main outstanding characteristic. Spinning and baitcasting enthusiasts will appreciate this storage tackle box thanks to the reduced weight.
Surprisingly, many people would characterize it as a small box, but it will fit a lot of fishing gear. Created for all fishermen that want an "easy-to-the-wallet" tackle box solution.
See Pricing and Reviews on Amazon
Plano Large 3 Tray Tackle Box
A well-designed tackle box created by fishermen, for fishermen. It is a good buy due to the affordable price and high-quality construction material.
Outstanding Features
Crafted of molded high-density plastic and being sturdy and lightweight at the same time, it is an ideal box for keeping lures and fishing apparel safe. The locking clip secures the lid. Plano always offers a better quality by incorporating high-quality materials.
One of the best fishing tackle boxes on the market at a reasonable price and has many features that can be found only in expensive products. Undoubtedly, a value fishing box.
See pricing and Reviews on Amazon
Ready 2 Fish Tackle Box
Are you ready to fish? With this fishing tackle box, the answer should be a definite yes. This is a complete fishing gear system because the package has some extras. Overall, if you are a beginner, we definitely recommend this fishing tackle box.
Outstanding Features
A ready to use combo with two or three trays with enough space for 62 or 132 fishing items. The big plus here is that this case comes with a set of hooks, jig lures and sinkers. A good combination for every beginner and a fishing guide is also included.
It is available in two colors and the majority of anglers would describe it as a quick, handy solution. Of course, the dimensions are not really large so if you have a lot of storage needs, this tackle box isn't for you.
See Pricing and Reviews on Amazon
Wakeman Fishing

Tackle Box
Our final pick is the Wakeman Fishing Tackle box. Highly recommended for avid anglers who have lots of things to be carried. Made of special high-quality plastic and has a convenient grip. However, the "wow" feature will be explained below.
Outstanding Features
What is not to love in this box? Two trays with multiple segments and numerous outer compartments! The removable plastic boxes can be found on the top lid and under the box.
It will bring every fisherman to the next fishing level. A smart organizer only for serious anglers. One of the best fishing tackle boxes with ample space 10.5X20X18.
Conclusion
These are the best fishing tackle boxes that we think will fulfill even the most demanding angler's needs. We have analyzed all of the necessary features and specifications to make sure these are the right tackle boxes for you.
Keep in mind that fishing is not all about the gear. Enjoy this wonderful activity, disconnect and get in touch with nature. Pick a tackle box that will work for you and get back out into the wilderness.