Fishing line connects the fisherman with the fish so it is important that you have the best fishing line to ensure it is strong enough to pull in your catches. While there are a number of fishing line options on the market, we wanted to capture what we consider the best fishing lines by each type: monofilament, braided, and fluorocarbon.
Best monofilament fishing line
Best braided fishing line
Best fluorocarbon fishing line
Undoubtedly, fishing line is one of the most fishing tools as it is the only link between you and the fish. Besides, it is not necessary to expand on the reasons why it is so important for every angler. However, it would be a good idea to analyze and understand the construction of fishing line.
Every angler knows that there is nothing worse than a sudden line break! Can we prevent it? Of course we can, by choosing the right line that will fit our fishing needs. In this article, we will discuss the most important fishing line categories and show you the best fishing lines on the market.
Types of Fishing Line
As stated above, each fishing line serves different purposes and that depends on many factors like fishing technique or target fish. The basic fishing line categories are monofilament (mono), fluorocarbon (fluoro) and braided fishing line.
Monofilament Fishing Line
There is no angler who does not know the classic monofilament line. It is a single strand of nylon and it comes in different sizes and colors for many fishing applications. Additionally, mono line absorbs water.
And you can use it for spinning, match fishing or vertical bottom fishing.
The best monofilament fishing line has low memory and it is abrasion resistant. Overall, manufacturers, use polymer and copolymer to craft it. They heat these materials until they becomes fluid and some special machines create the typical line shape. Afterwards, they cool the line and wound it on spools.
Fluorocarbon Fishing Line
Manufacturers craft these super lines using materials that have almost the same refractive index as pure water and that's why they are invisible. In particular, they are made of carbon and fluoride bonds. Fishing tackle manufacturers launched it in many sizes and many fisherman could admit that it is a revolutionary line.
The invisible fishing line increases the fishing efficiency and our recommendation is to use it as leader line. The only problem here is that many fluorocarbon lines on the market are not 100% fluorocarbon. Fluoro coated line is not fluorocarbon.
Braided Fishing Line
Since we are talking about the best fishing lines, we could definitely not exclude braided line from our list! Braided line gives you the option to use heavier fishing tackle like heavier lures and it is supposed to be stronger. It is made of polyethylene fibers which are woven together.
The most common types are spectra fishing line and dyneema and they have 3, 4, 6 or 8 strands also known as clones. Good braided fishing lines are extremely inelastic and they are coated with a special fluid in order to give you a smooth casting experience. The only disadvantage is that it is highly visible in the water.
Which Fishing Line Should You Choose?
There is no doubt that this question is a major concern for all of us avid anglers. The truth is that there is no specific rule, but a basic approach. First of all, fluoro line is invisible so we can use it as leade line to attach our lure or bait.
If our target fish are big, for example for big game fishing, we will use braided line. In a few words, for trolling, casting or spinning, braided is the perfect solution. On the other hand, for drifting, catfishing or jigging, it would be a good idea to use monofilament line.
It depends on the fishing technique and target fish.
Best Monofilament Fishing Line
KastKing Masters Tournament Grade Monofilament Fishing Line
Firstly, the first thing you will notice is that you will get all the benefits of the best monofilament fishing line ever made. Undoubtedly, it is a high performance fishing line as it is extra soft and durable at the same time. Many anglers who used this line admit that it produces less friction and it will not apply much pressure on the fishing rod guides.
Experience an effortless fishing trip and enjoy the excellent castability with this KastKing Masters Tournament Mono line. True to its name, it is a tournament fishing line made of high quality nylon. Surprisingly, there is no downfall here and fisherman can use it for the lake, sea, pond or rivers.
It is a fast sinking line and it is available in seven colors suitable for every fishing environment. Better cast control and stability.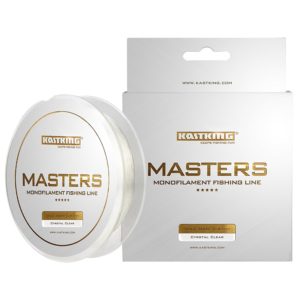 See Pricing and Reviews on Amazon
2. 

Sufix Tritanium Plus 
Another line made by sufix crafted of high quality and density polymer, so we should definitely embed this line in the list with the best fishing lines. Landing a trophy fish is not difficult thanks to the monofilament Sufix Tritanium line. "Titanic" strength and reallly tight knots.
The line consists of polymer and several special anti friction agents which you will feel once you hold the line in your hands. Designed to maxify efficiency and line control and allows a safe fish landing.
It is suitable both for trolling, spinning and surfcasting with heavy lures or topwater floating lures.
See Pricing and Reviews on Amazon
3. 

Berkley Trilene Big Game Monofilament 
Undoubtedly, it is the best saltwater fishing line for two reasons. First of all, it is a special big game fishing line which means that it is shock resistant. Secondly, it has a superb holding power so you can battle every fish.
Moreover, it allows far and smooth casting without putting much effort. Apart from that, it is abrasion resistant equipped with extraordinary strength and balance. In general, monofilament lines are considered to be thick lines.
However, with the Berkley line you will realize that it has extremely thin line diameter and that makes it one of the best fishing lines.
Best Braided Fishing Line
1. Power Pro Spectra Fiber Braided Fishing Line 
This line is one of the best choices on the market coming in an ample variety of sizes. It is not necessary to say that it is a high quality and extra durable line. Why?
Because it is made of Spectra. Spectra is a material used by many bulletproof jacket manufacturers. Braided line is definitely one of the best fishing lines and their main characteristic is that they have zero elasticity.
The Powerpro Spectra line is a strong fishing line and sensitive of course just to feel every bite. In addition, the line comes with a small plastic spool and you can spool it directly from there on the reel.
See Pricing and Reviews on Amazon
2. 

Piscifun Braided Fishing Line
The Piscifun Braided line has a superior strength and it comes in two types, 4 and 8 strands. This brand is popular for its high quality fishing tackle products. Furthermore, it is a good choice for every angler as it is suitable for almost all fishing techniques, saltwater and freshwater.
The zero stretch levels make it extra sensitive and once you hold the line, you will realize that it is perfectly round. Roundness plays an important role because it makes the casts easier.
Finally, it offers superior line capacity because the line diameter is extra thin. Piscifun constracted the line using a special presicion braiding proccess and that's why it has a perfect shape. Many people find it difficult to load a reel with braided line.
However, you can spool this line easily just like monofilament line.
See Pricing and Reviews on Amazon
3. 

KastKing SuperPower Braided Fishing Line 
Next in line is another KastKing SuperPower braided line, but it is slightly different than typical braided lines. KastKing knows that when anglers do not rinse the reel spool with water after every fishing trip, saltwater and dust corrodes the line. Consequently, they constructed the SuperPower Braided line with a special coating which protects it from UV Rays and saltwater.
For people who are looking for strong knots and high abrasion resistance, this braided line is the perfect choice. The hallmark of reliability, the SuperPower line, comes in different sizes and five colors.
There is also a multiple color fishing line which you can use for both freshwater and saltwater conditions. As a result, water absorbs these colors.
See Pricing and Reviews on Amazon
4. 

Hercules Pe Dyneema Braided Fishing Line 8 Strands
Looking for a tough fishing experience and adventure? Well this is one of the best fishing lines for this purpose! If you take a closer look at the specifications you will see that there are two types with 4 strands (10-100 pounds test) and 8 strands (10-300 pounds test).
Undoubtedly, this line will pass the test of time thanks to the dyneema high density material. The color of the line is black which means that saltwater or freshwater can easily absorb it and dicrease the visibility levels.
Surprisingly, the memory is wxtremely low so you will not have any line twists or loops.
Best Fluorocarbon Fishing Line
1. Seaguar Blue Label 25 Yards Fluorocarbon Leader
If you tend to scrap the line against a rock or tree trunk all the time, with this line you will not have to worry about that. Manufacturers designed this special fluorocarbon line so you can keep up the balance and perform long distance casts. Moreover, as stated above the best fishing lines are not fluoro coated. but 100% fluorocarbon.
Consequently, we can assume that we are talking about a good fluoro line. Whether you will use it as leader line or even as main line, the results will surprise even the most demanding angler.
The stretch levels are extremely low and many anglers could say that it is almost invisible in the water. Additionally, there are many sizes and pound test available.
See Pricing and Reviews on Amazon
2. 

Yo-Zuri H.D. Carbon Fluorocarbon Leader Line
A pure Fluorocarbon fishing line made by YO-ZURI, one of the most popular fishing equipment manufacturers. The line diameter is 0.573mm so it can fit almost any reel and offer great line capacity.
Many anglers tested this line and they are impressed due to the invisibility and high performance in the water. The only drawback here is the price, but if you will use it as leader line it is a great value product. At least for the next 5 years you will not need any other leader line.
See Pricing and Reviews on Amazon
3. KastKing FluoroKote Fishing Line – 100% Pure Fluorocarbon Coated
Lastly, we would like to present the KastKing FluotoKote Line which has extremely low stretch. Besides that, it is 100% coated with fluorocarbon so it will not be highly visible. A nice fishing line at an affordable price which can be used for all fishing circumstances.
Whether you are a beginner or not, this line will not disappoint you. Imagine a solid strong co-polymer line core coated with special fluorocarbon material. This special construction and design makes it to sink easier and faster than common monofilament or fluorocarbon line.
Conclusion
Finally, we tried to arm you with the most valuable information you need in order to choose the best fishing lines. The main rule is to understand for which purpose you will use your line. Each technique has different characteristics and needs and each line is suitable for several purposes.
Thank you for reading and hopefully our article was helpful for you. Stay tuned on fishedthat.com