If you're looking for the ideal fishing spots in Sydney, you are at the right place. This stretch of the Australian coast has some of the world's most breathtaking waterways with endless beaches that provide a fishing paradise to fishos and recreational anglers alike.
With so many fishing spots to choose from, each more breathtaking than the next, settling for just one location can be confusing. The good news is that you won't have to.
This article will give you all the information you need to explore as many spots as you'd like. We'll tell you some fish species you're likely to reel in and the rules and regulations you must follow. Keep in mind that in New South Wales, you'll need a recreational fishing license.
Here are some of the best fishing spots in Sydney for full-day fishing fun.
Beulah Street Wharf
Beulah Street Wharf is located at Kirribilli, which is on the northern side of the Sydney harbor. It is one of the best fishing wharfs in Sydney, and it's super convenient to visit!  
If you board a bus, alight at the Carabella St at Peel St, and it will take about three minutes to get to the wharf. If a train route is more convenient for you, alight at the Milsons Point Station, and you'll be about 18 minutes away from Beulah Street Wharf.
Ferries also dock at Kirribilli Wharf, six minutes from your destination. You'll spend about 15 minutes on the road for those using private means. Suppose you're coming from central Sydney.
Beulah Street Wharf is a picturesque location with a divine view of the Opera House and the Sydney Harbour. Tourists and locales frequent this place, so it's not ideal for lonesome fishers. But, if you come during the night or early in the morning, you might enjoy some lonesome fishing and catch some trevally, squids, bream, snapper, flathead, and yellowtail.
The times are also ideal for helping avoid the strong currents caused by ferries. Since this area is constantly fished, rules and regulations require a willingness to catch and release.
Gladesville Wharf (Parramatta River)
If you live in the west of Sydney, there are great opportunities for bass fishing in the freshwater estuaries, especially in the Parramatta River. The river is located at Gladesville — a mere 20-minute drive from Sydney's CBD.
You can also get there by bus, train or ferry. The Victoria Pl after Hepburn Ave bus station is two minutes away from Gladesville Wharf. Kissing Point Wharf is the nearest ferry station to your destination so prepare for a good 30 minutes walk to the Parramatta River.
If you're looking to spot some bream, leather jacket, mulloway, jewfish, bass, and carp, cast your line unto this river.
Unfortunately, the Parramatta rivers are polluted. The NSW government has warned against consuming fish caught in these waters as analysts have found dangerous dioxins in the fish.
Clarke's Point Reserve (Parramatta & Lane Cove Rivers)
Have you been looking for secret fishing spots in Sydney? Come to Clarke's Point Reserve.
This quiet little park spreads endlessly with room to run around or take long walks. What's more? While on the reserve, you get a peaceful atmosphere and beautiful views of Cockatoos Island, Harbour Bridge, and the city.
Expect to reel in some leather jackets, Australian salmon, yellowtail, snappers, and bream. To top it off, Clarke's Point Reserve comes with a BBQ facility, picnic benches, and tables to help you grill and devour your catch in style.
You can access this exclusive location through the lush Woolwich seated between Parramatta & Lane Cove Rivers. That would be a 19-minute drive from Sydney. If you're using a bus route, alight at Woolwich Rd at Franki Ave, and you'll be 4 minutes away from your destination.
The ferry will dock at Woolwich Wharf, so you'll have to walk the rest of the way. That would be a 14 minutes walk. Keep in mind that there is a bag and gear limit for fishing at the reserve.
Cooks River (Brighton-Le-Sands)
Anglers also love visiting the Cooks River, which is located in the northern sprawls of Brighton-Le Sands. It's an excellent spot for catching and releasing since the river is polluted.
This might be the spot for you anglers who love lonesome fishing and evening adventures in places away from the city. Cooks River boasts calm water and breathtaking views of planes landing and taking off just across the water body.
A mere 20 to 15-minute drive from the center of Sydney will ensure you hook some salmon, snappers, blackfish, trevally, and tailor.
Manly Dam
Manly Dam is one of the best fishing spots in Sydney. The Dam is a heritage site located in Manly Vale near King street. From central Sydney, that's about a 30-minute drive.
The park hosts picturesque diverse flora and fauna. Also, there are a lot of significant by-the-water picnic areas and a pleasant network of bush tracks if you're an explorer.
If you're an angler, there's something for you too. The wetland surrounding the dam walls boats some serious schools of fish. For kayak anglers, you'll love this location. Manly Dam has many access points making it easy to launch your kayak and paddle away to find an even more exclusive area.
The day's catch may be silver perch, carp, redfin, or Australian bass. We recommend casting your line during evening hours to increase your catch.
Gordon's Bay
Gordon Bay boasts beautiful and lively corals and reefs which, as you might have guests support its diverse marine life, making it one of the most suitable fishing spots in Sydney.
The Bay is popular with snorkelers, anglers, and sightseers alike. The latter come to marvel at the headlands encapsulating this area.
Located between Coogee Beach and Clovelly, Gordon's Bay is 11 minutes away from central Sydney. It can provide some perfect spots for rock fishing during the early mornings. You'll need to abide by specific rules and regulations when fishing in Gordon's Bay.
Always wear a life jacket while fishing on the rocks. Species like cockles and urchins are protected, so you will be well to leave them alone. Also, don't fish for blue gropers as they're an endangered species. Otherwise, have fun hooking some parrot fish, red rock cod, trevally, and bream.
Botany Bay
Botany bay is wide open, perfect for fishing in kayaks, small boats, and even from the vast shores. If you love aquatic and estuary fish species, this is the ideal spot to find both.
The Bay, located between Kurnell and La Perouse, is 42 minutes from central Sydney. Botany Bay is the perfect fishing heaven for recreational anglers because NSW designed it to fulfill this purpose.
There is no commercial fishing in this area. This has improved the number of species and the health of the fish.
Cast your lines in these waters, and you'll be sure to reel in some snappers, mulloway, trevally, yellowfin, Australian salmon, or breams.
Clifton Gardens
If you love Sydney harbour fishing spots, steer towards Chowder Bay, Mosman, and locate the Clifton Garden—a 20-minute drive from central Sydney.
A lengthy jetty. Glossing waters. A slim stretch of golden sand. A perfect paradise for picnics, snorkeling, and jetty or bank fishing.
Visitors frequent Clifton Gardens, so plan to go in the early mornings to avoid the dense crowds and enjoy the breathtaking views. Expect to catch some yellowtails, garfish, bream, trevally, and kingfishers.
Rules and regulations governing fishing in spots around Clifton Garden prohibit using any nets in this area except from October to March when you can use landing nets. 
Tom Uglys Bridge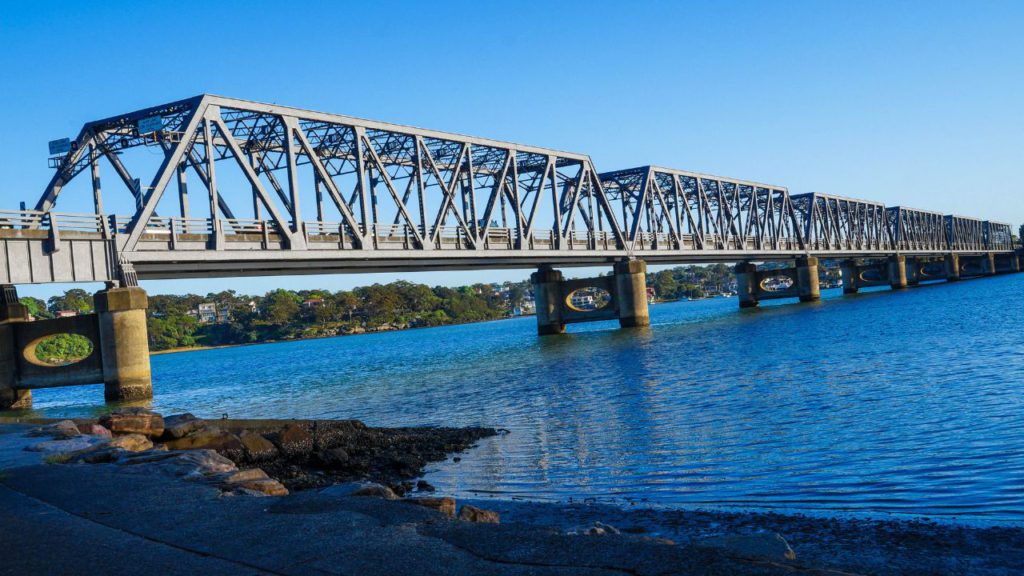 Tom Uglys Bridge is an impressive work of architecture across the George River that is pretty hard to miss. Veer towards Shag point in Sylvania, NSW, and you'll be sure to catch a glimpse of the heritage site.
When driving from central Sydney, it will take you about 30 minutes to get there. You can park right near the coast and start your fishing adventure anytime you visit this area.
Cast your line just near the shoreline and flicker your bait a bit. You'll surely catch some tailors, yellowfins, breams, mulloway, dusky flathead, sea mullet, and estuary perch.
Since the area is open to commercial and recreational fishers, there are rules concerning bag size and gear you must adhere to. You're only allowed one to 4 fish depending on the species.
Blues Point Reserve
Blues Point Reserve is another breathtaking fishing spot in Sydney. You'll surely enjoy delightful panoramic views of the Harbour Bridge, the Opera House, and the city.
The park has public amenities such as seats, picnic tables, playgrounds, and public toilets, making it ideal for the entire family.
Located at McMahons Point, NSW, Blues Point Reserve is a mere 10 minutes drive from the center of Sydney.
As you beach, rock, boat, or jetty fish, expect to catch some jewfish, trevally, and kingfish. And there are rules and regulations regarding the fishing equipment, bag, and size limit.
Broken Bay
Broken Bay is a substantial oceanic bay located at Central Coast, NSW— 31 minutes away from central Sydney. Aside from fishing adventures, Broken Bay also provides camping for kids, music festivals, and sporting events.
If you get there in the early morning, you'll surely enjoy some lonesome fishing suffused by the delightful sounds of nature. Additionally, you'll catch a glimpse of the spectacular views of the sandstone cliffs, Barrenjoey Lighthouse, and Lion Island.
The area is popular with lobster, prawns, and fin fish such as dusky flathead, Australian salmon, and surf breams. Remember to observe the bag and size limit and carry the legal fishing gear.
Gunnamatta Bay (Port Hacking)
Gunnamatta is an inlet of Port Hacking located in the Sutherland Shires, NSW—a 33-minute drive from central Sydney.
The area is suitable for both surf casting and boat fishing. If you venture around, you'll spot some favorable rock fishing locations. Most anglers have reported catching Australian salmon, ludericks, whitings, breams, and flatheads.
In Gunnamatta Bay, there are prohibited methods of fishing and species that you are required to release after catching.
Fishing in Sydney FAQs
Can You Fish Anywhere in Sydney Harbour?
Yes, you can do recreational fishing anywhere in Sydney Harbour. But remember to follow dietary advice on fish consumption from tidal waterways, including Sydney Harbour and Parramatta River. The tidal channels are also perfect for practicing your catch and release fishing skills.
Do I Need a License to Fish in Sydney?
Yes, NSW fishing rules and regulations require recreational anglers to have a receipt indicating the payment of the recreation fishing fees or a license indicating the same. The restrictions apply to fishing in fresh and salty water.
How Much Is a Fishing License in Australia?
$85 for three years
$35 for one year
$14 for one month
$7 for three days
You can easily buy the fishing license online or at most Kmart stores.
Ready to Wet Your Line and Reel in Some Fresh Dinner?
Have fun exploring all these great fishing spots in Sydney! These locations are also brimming with different fish such as flounder, blue groper, tuna, and marlin. You can even haul squid and a bucketful of crabs! 
Remember, once you've secured that fishing license and have packed your favorite rod, traps, and other fishing gear, don't just settle for one location; there's always more to see. The next harbor or wetlands is filled with top water pelagics, new species to catch, and ethereal sceneries to enjoy.